ROBERT LAMARCHE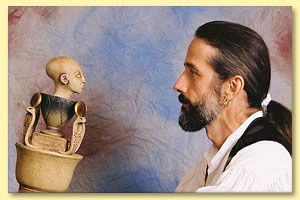 Ojai artist Robert Lamarche has been making his home in California for almost 25 years. His illustration work -- computer generated and traditional media -- have appeared in the pages of hundreds of magazines and books over the years, while his sculptural work, both in paper and clay, has been very well received by collectors and by the art community.
Born into a family of fine artists and stage and television performers, Robert Lamarche learned his craft the old-fashioned way, first apprenticing with Quebec ceramicist Gilberthe Raymond and later with the late Spanish-born sculptor and muralist Jordi Bonet. Robert also attended classes at the Montreal School of Fine Arts; and at the Center for Visual Arts, under the guidance of Japanese ceramicist Kinya Ishikawa.
CANADA
Robert already had an impressive number of solo exhibitions to his credit when he left Canada in 1980. Of these, Gods Awakening, at La Fourmilière in 1974, Le Profane et Le Sacré, at Galerie Soleil in Montréal in 1976, and Le Chaud et Le Froid, at L'Atelier des Trentes in Mont-Saint-Hilaire in 1979, clearly indicated the artistic direction Robert would later follow in his career. All featured ceramic sculpture as well as other media, including live performance art.
During those years, Robert also participated in many group shows, including the prestigious annual Salon des Metiers d'Arts du Québec, where he was voted 'Best in Show' for the year 1977, over a field of more than 300 participants.
USA
In California during the late eighties and early nineties, Robert explored the possibilities offered by paper as a sculpting medium. Eventually, he presented two solo exhibitions of paper sculpture: Impressions I, at the Peter Strauss Gallery in Calabasas, and Impressions II, at the El Capitan Gallery in Santa Barbara. Both shows were virtually sold out, and one of the pieces shown at the Peter Strauss Gallery went on to win Grand Prize in a contest of Origamic Architecture sponsored by OMNI Magazine.
In August 2002, Robert contributed one piece to Assemblage, a group show curated by Ojai artist Jan Sanchez at the G. Childress Gallery
Also in August 2002, Robert showed a selection of his work under the title: Ceramystique - Ancient Wisdom in Clay at the Ojai Center for the Arts. Robert's goals were to re-introduce himself as an artist to the art community in general, to the people of Ojai in particular, and to publicize his upcoming exhibition Houses of Eternity, to be held in November of that year at the G. Childress Gallery.
On November 9th, 2002, Robert opened his show Houses of Eternity to a record-breaking attendance at the G. Childress Gallery in Ojai. During the exhibit's two-month run, Robert's work garnered praise from the artistic community as well as from the press.
December 2005 through January 2006, a collection of Robert's work -- Ceramystique -- including many new works, such as the massive "Under The Gaze Of The Gods" mural, completed a successful run at the M. J. Higgins Gallery in downtown Los Angeles.
Robert draws from his extensive knowledge of ancient Egyptian art to infuse his work with depth and emotional impact. Working with clay, poetry, glass, neon, bronze, steel and precious metals, Robert re-creates ancient forms of expression for the 21st century art connoisseur.
"My work is deeply inspired from the art of ancient Egypt, an inspiration which I bring up to date with the technologies and artistic conventions of the 21st century," says Lamarche. "These are not copies or reproductions of ancient artifacts, but complete recreations melding the artistic, literary and spiritual concepts of this ancient civilization with today's aesthetic sensibilities." Age-old traditions of the ceramicist craft are blended with cutting-edge technonogy: meet an ageless goddess bathed in the cool glow of blue neon, or a pair of pyramids turned into a cubist celebration to the cosmic union of Earth and Sky...
Robert is also available for architectural art commissions and can be contacted at his studio.