Robert Lamarche is offering a signed, framed and numbered limited edition of the Wedjat, or Sacred Eye of Horus.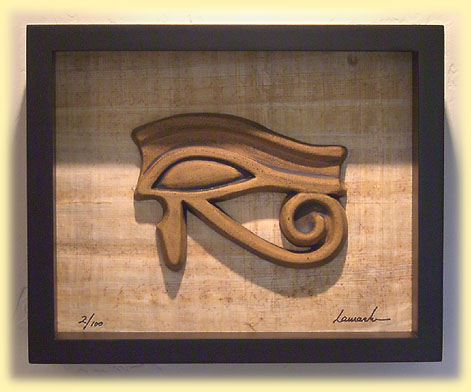 Fashioned of high-fire stoneware, each piece is individually hand made by Robert. The Eyes are approximately 6 inches wide by 4.5 inches tall, each framed in a deep 8.5" X 10.5" X 3" shadow box, and set against a sheet of imported Egyptian papyrus. No two are exactly alike, as there are slight variations in shape and color due to the firing process.

The picture above show the left Eye, the right side Eye is also available. This edition is limited to a strict number of 100 total, that is, 50 of each right and left. You can purchase either side separately, or buy a pair.
As with any limited edition, The Eye of Horus is subject to availability, and we will close this offer when sold out.
So don't miss out and order early.