EXHIBITIONS
Past & Present
***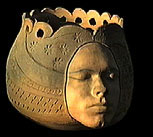 ****
Robert Lamarche already had an impressive number of solo exhibitions to his credit when he left Canada in 1980. Of these, Gods Awakening, at La Fourmilière in 1974, Le Profane et Le Sacré, at Galerie Soleil in Montréal in 1976, and Le Chaud et Le Froid at L'Atelier des Trentes in Mont-Saint-Hilaire in 1979, clearly indicated the artistic direction Robert would later follow in his career. All featured ceramic sculpture as well as other media, including live performance art.
During those years, Robert Lamarche also participated in many group shows, including the prestigious annual Salon des Metiers d'Arts du Québec, where he was voted 'Best in Show' for the year 1977, over a field of more than 300 participants.
****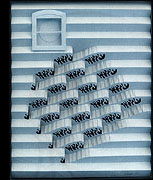 ****
***
In California during the late eighties and early nineties, Robert explored the possibilities offered by paper as a sculpting medium. Eventually, he presented two solo exhibitions of paper sculpture. Impressions I, at the Peter Strauss Gallery in Calabasas, and Impressions II at the El Capitan Gallery in Santa Barbara. Both shows were virtually sold out, and one of the pieces shown at the Peter Strauss Gallery went on to win Grand Prize in a contest of Origamic Architecture sponsored by OMNI Magazine.
***
***
The year 2002 marked Robert Lamarche's
return to ceramic sculpture.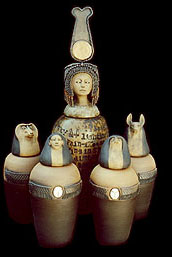 ***
On Bastille Day, July 14 2002, Robert was invited to show a few pieces at a friend's house warming reception. The hostess -- also an artist and a painter -- threw a fabulous party, during the course of which Robert was surprised when one of the guests offered to purchase everything he had brought!
***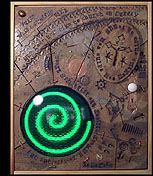 ***
In August 2002, Robert contributed one piece to "Assemblage", a group show of multi-media art curated by Ojai artist Jan Sanchez at the G. Childress Gallery. "The Light Was Green", is a ceramic mural piece that incorporated flashing neon, a traffic light lens, and various found and fabricated objects.
***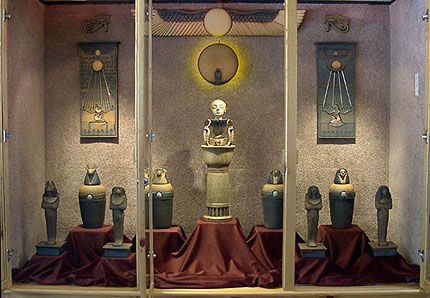 ***
Also in August 2002, Robert Lamarche showed a selection of his work under the title: "Ceramystique -- Ancient Wisdom in Clay" (above) at the Ojai Center for the Arts. Robert's goals were to re-introduce himself as an artist to the art community in general, to the people of Ojai in particular, and to publicize his upcoming exhibition "Houses of Eternity", to be held in November at the G. Childress Gallery. This was a very successful show.
***
| | | |
| --- | --- | --- |
| | On November 9th, 2002, Robert opened his show "Houses of Eternity" to a record breaking attendance at the G. Childress Gallery in Ojai. | |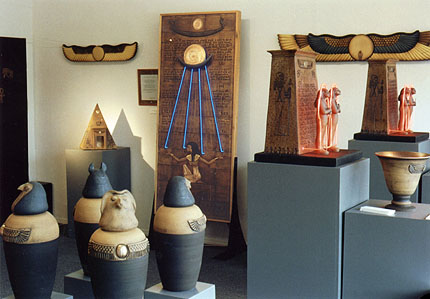 ***
A selection of Robert's work has been on permanent display at Primavera Gallery in downtown Ojai.